TRAVELLERS Choice has added two new member shareholders to its network, both from growing areas of Western Australia.
Kings Tours and Travel and James St Cruise & Travel are the latest additions to the Travellers Choice stable, joining in the group's 40th anniversary year.
Specialising in escorted holidays for mature travellers, Kings Tours and Travel has grown rapidly in recent years.
Its flagship store in the Perth suburb of West Leederville was joined recently by a second outlet, Northern Beaches Travel & Cruise, while a third store is planned to open soon in the city of Mandurah.
Owner Jenny Franceschi said she wanted to partner with a group that had the resources and expertise to help her expansion.
"One area in which the group's knowledge and support is proving invaluable is digital marketing," she said.
James Street Cruise & Travel is located in Pinjarra, around 90km south of Perth, and serves an expansive area of WA's south west that includes Narrogin, a large town in the state's Wheatbelt region.
Pictured are the Kings Tours and Travel team, from left, Wendy Ellis, Jenny Franceschi, Nicola Strudwick (Travellers Choice), Kellie Caust and Courtney Jarman.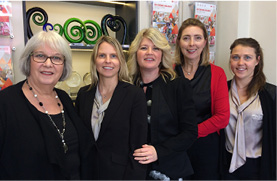 The post New arrivals for Travellers Choice appeared first on Travel Daily.
Source: traveldaily