EARLIER this week a special ceremony was held at NSW Parliament House to honour the 2017 Minister's Student Achiever Award winners, bestowed on top students in tourism & hospitality.
Minister for Tourism and Major Events and Assistant Minister for Skills Adam Marshall congratulated the 14 recipients.
"The students honoured today represent the future of tourism and hospitality, and embody the commitment to excellence that is critical to the continued success of our industry," he said.
Marshall also acknowledged tertiary institutions for their ongoing support of tourism and hospitality related studies.
The NSW Government has been acknowledging high achieving tourism and hospitality students at a Minister's Student Achievers Awards ceremony every year since 1990.
The 2017 award recipients pictured with Adam Marshall (in front) are: Melissa Allcroft, Yani Dawe, Kye Dewberry, David Hickson, Dominic May, Chelsea McKay, Harry Mitchell, Michael Santo Monteleone, Titania Oberg, Janelle Rooney, Jenny Scoufis, Rebekah Sharpe, Cindy Sneddon and Jordan Stanford.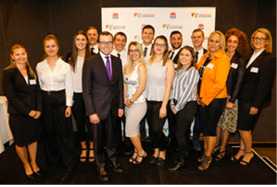 The post NSW Student Achievers appeared first on Travel Daily.
Source: traveldaily