PEREGRINE Adventure Cruising will bolster & broaden its Europe program in 2018 after a stellar debut season which saw its seven Variety Cruises' Croatia charters operate with 95% capacity.
The new program was unveiled yesterday & includes new sailings to Greece, Spain & Portugal and Iceland in Europe, and further afield to Costa Rica and Panama.
CEO of the Intrepid Group which owns Peregrine, James Thornton said the adventure cruise program had started small but had "big ambitions", which would also see an expansion into Asia for the 2018/19 season with a four-to-five month Variety Cruises charter – see today's issue of Cruise Weekly for more detail.
Thornton said the product was a "disruptor" to the cruise industry, with Peregrine "taking a slightly alternative way of travelling while continuing to offer all the benefits of cruising…but in a more sustainable and immersive way".
With a maximum of 50 pax on each charter, the product delivers on Peregrine's small group experience at an "affordable" price, leading in (on average) at $500 per day, and with each departure carbon offset.
Unlike large ships, he said the Variety Cruises boats were able to "pull into the heart of a town, a cove or beach, spending lots more time in port and putting money into the local economy".
Thornton is pictured (right) with Intrepid's newly appointed Adventure Cruising brand and marketing manager Filippos Venetopoulos from Variety Cruises.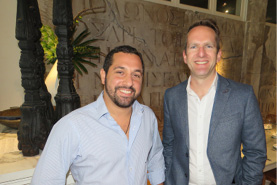 The post Peregrine Adv Cruising ramps up appeared first on Travel Daily.
Source: traveldaily