PAPUA New Guinea last week welcomed 18 wholesalers from around the world for its annual travel industry event, Lukim.
The gathering gave international buyers a chance to connect directly with 36 tourism operators from around the country.
Wholesalers from Australia, USA, UK, Europe, Japan and China were in attendance.
PNG Tourism Promotion Authority's Australian and New Zealand representative Lauren Whicker said the event provided a rare opportunity for those involved in the tourism sector to come together face-to-face and discuss PNG tourism.
Pictured is Konrad Borowiecki, No Limit Adventures; Lauren Whicker, PNG Tourism Promotion Authority and Lisa Pagotto, Crooked Compass with locals.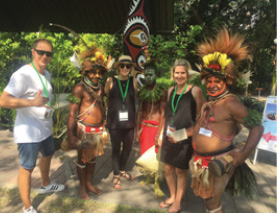 The post PNG welcomes the world appeared first on Travel Daily.
Source: traveldaily