TWO years after breaking ground on Port Vila's seafront redevelopment project, NZ's High Commissioner for Vanuatu Georgina Roberts officially opened the precinct on Fri.
The US$17m project has been one of the largest infrastructure developments that the NZ govt has backed in the South Pacific, with Kiwi tax-payers investing approx US$13 million.
Speaking to trade media ahead of the opening ceremony, Roberts said the seafront precinct "was meant to be a transformative project for tourism in Port Vila as the gateway to Vanuatu".
"We see tourism as a significant sector that has more potential for the Vanuatu Government.
"We can work together to provide assistance to help deliver that," Roberts said.
The 1.2km beautification project stretches from Chantillys on the Bay to the Port Vila Central Market House, and features upgraded walkways, parklands (declared at the opening as Tasanak Park) and gardens.
Roberts reiterated comments made to Travel Daily by Vanuatu Tourism Office's gm Adela Issachar Aru (TD Thu) that the project also aims to entice more cruise pax off ships when making port calls in Vila and has seen new tourism partners establish a presence on the harbour.
Roberts (right) and Issachar Aru are pictured near Chantillys on the Seafront Precinct – more images on Facebook HERE.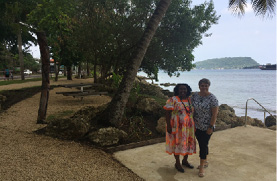 The post Port Vila Seafront precinct debuts appeared first on Travel Daily.
Source: traveldaily