PRINCESS Cruises revealed it will operate a "Greatest Hits" World Cruise in 2019 from three local ports during an event in Sydney yesterday.
The 106-day world cruise on board Sea Princess will sail out of its official starting point of Sydney on 14 May but passengers will also be able to jump aboard in Auckland on 10 May and Brisbane on 16 May.
Ports have been selected from feedback collected from Princess Cruises' 12 years of world cruising, with highlights including St Petersburg, Russia, New York, North America & Lima, Peru.
Sea Princess will visit a total of 39 destinations across 32 countries during the cruise, after which she will depart on a 35-day Hawaii, Tahiti and South Pacific voyage from Sydney.
Fares will go on sale 09 Nov at 9am EST and prices lead in for the Sydney departure at $22,999ppts.
During the function Princess pres Jan Swartz beamed in via video link to update guests on Ocean Medallion, which will arrive in Australia next year on Golden Princess.
"[Ocean Medallion] will simplify the cruise vacation experience, it will empower our crew and it will deliver a level of personalised service and experience creation never been seen before in the leisure business around the world," Swartz said.
Pictured are Stuart Allison, vp Australia & NZ; Rachael Tyrell, bdm; Brett Wendorf, head of sales and Trevor Thwaites, national account manager.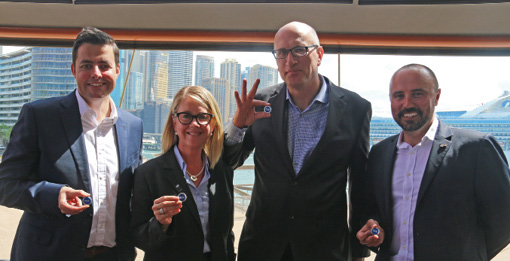 The post Princess unveils world cruise appeared first on Travel Daily.
Source: traveldaily