TRAVELMANAGERS' annual conference in Darwin over the weekend attracted record attendance numbers – up 40% on last year's event in Bangkok.
"Most years our conferences have gotten bigger and better every single year so to have our 10th one as the biggest one is absolutely fantastic, we're stoked about it," Grant Campbell, coo told Travel Daily.
Michael Gazal, exec gm TravelManagers said this year's conference theme of "one" was really significant.
"I believe we're in a one-of-a-kind city, that's proven by the feedback, we are one network, a premium network of PTMs," Gazal explained.
"Each of those PTMs are individual people that are building their own businesses around what they want and as one National Partnership Office we come together as one strong unit to provide support."
On Sat morning TravelManagers participated in the "Steps Towards Capability" fundraiser for Helping Achieve – an organisation which assists those with a physical or intellectual challenge to attain training & employment.
Over the weekend attendees were also treated to a series of opportunities to connect and catch up and socialise including a "One" party at Pee Wee's at the Point, also attended by some wildlife from the Territory Wildlife Park and a lavish gala awards dinner at Sky City.
TravelManagers are pictured above ready to embark on the Steps Towards Capability walk, while Debra Deane, NSW PTM is inset getting acquainted with the locals and the new band "Juan Direction" is below at Fri night's One Party.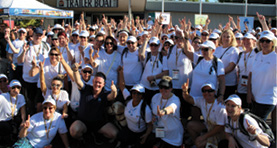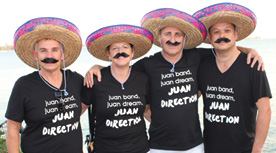 The post PTMs come together as one appeared first on Travel Daily.
Source: traveldaily