THE "game-changing" Qantas Boeing 787-9 Dreamliner officially touched down in Sydney this morning, cutting an impressive shape through the dark clouds above Kingsford Smith Airport.
Once safely on the tarmac, celebrations were in full swing, with the newly-christened 'Great Southern Land' jet warmly welcomed to the fleet with a live performance from Aussie band Icehouse, who belted out their iconic hit whose name now adorns the aircraft's fuselage.
A chuffed Alan Joyce disembarked from the Dreamliner to greet the crowd, notable among them Foreign Affairs Minister Julie Bishop and Minister for Infrastructure and Transport Darren Chester, before addressing the media in Qantas Hangar 96.
"We've taken delivery of hundreds of aircraft in our 98-year history but only a few of them have been game-changers like this one," Joyce said.
"Boeing has given us an amazing aircraft that can fly from Perth to London nonstop, the first time the two continents have ever been connected…and that collaboration will go one step further with the challenge to do the same with 'Project Sunrise' by 2022."
A familiarisation phase will kick off initially, with the new Dreamliner to serve a number of domestic routes before taking off on its first international jaunt from Melbourne to Los Angeles on 15 Dec.
The direct flights from Perth to London launch in Mar.
Julie Bishop approached the stage briefly to congratulate Qantas on the new arrival.
"By investing in these Dreamliners, Qantas is demonstrating its confidence and optimism in the Australian economy," Bishop said.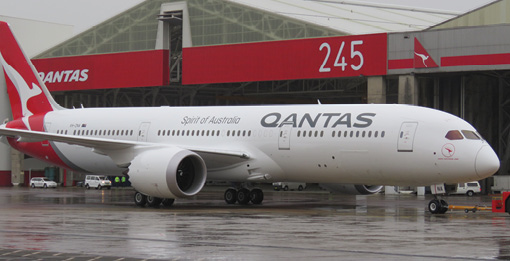 The post Qantas 787 touches down appeared first on Travel Daily.
Source: traveldaily