QANTAS has unveiled a new range of luxurious bedding products created by Sheridan for the airline's A380 First class suite.
The enhanced range signals the first stage of Qantas' major A380 fleet cabin overhaul announced recently (TD 25 Aug), and includes a refurbished suite with new contoured cushioning and a larger, higher-res IFE screen.
The Sheridan range includes a pillow menu offering three options, a memory foam mattress, "super-soft" sheeting, a duvet cover made from soft-touch tencel, a 100% combed-cotton woven throw and a bolster cushion (pictured).
QF's superjumbos will be fitted with the new bedding ensemble progressively from early Oct.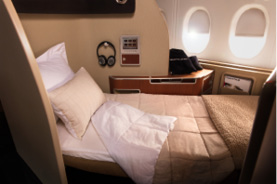 The post Qantas bunks down with Sheridan appeared first on Travel Daily.
Source: traveldaily