QANTAS will add 10 new routes to cities in Asia under its new codeshare agreement with Cathay Pacific (TD breaking news), including flights from Hong Kong to Bangalore, Mumbai, Kolkata, Delhi and Chennai in India; Colombo in Sri Lanka; Vietnam's Danang, Hanoi and Ho Chi Minh City; and Yangon in Myanmar.
The carriers already have a close relationship as members of the oneworld alliance, and interestingly former CX ceo Tony Tyler was recently appointed to the Qantas board (TD 30 Aug).
Qantas International ceo Alison Webster said the move was part of a strategy of operating to key global hubs and providing customers with access to an expanded network with airline partners based in those ports.
"Building on the relationship we have with Cathay Pacific through oneworld, we'll offer customers travelling from Australia more connections across Asia via Hong Kong, with the added benefit of a codeshare service," she said.
Together Qantas and Cathay Pacific operate more than 100 weekly flights between Hong Kong and Australia, and Qantas will also codeshare on CX long-haul flights from Hong Kong to Perth and Cairns.
Within Australia the CX code will be added to Qantas flights from Adelaide to Melbourne and Sydney; Alice-Springs-Sydney; Brisbane to Cairns, Sydney, Melbourne and Townsville; Canberra-Melbourne; Cairns to Melbourne and Sydney; Darwin to Perth; Hobart to Melbourne; and Melbourne to Sydney.
Codeshare flights will go on sale 22 Oct, for travel effective 28 Oct.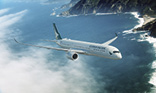 Source: traveldaily