TOMORROW is the last chance to snag yourself a trip to the Philippines as part of this month's Travel Daily competition.
Some entries have taken the Travel Daily team on an emotional roller coaster, with the above submission from Corporate Travel's Elinor Prevost sending us into stitches.
Prevost sent the image through with the caption "My hugot is "to get there no matter what!". As you can see, I am happy to hang off the wings, but I am also very comfortable snacking on some Puso in Economy class to Boracay!"
Zac Lavarn from Helloworld Travel also sent through the below creative collage and said "Philippines has the abundance of historical and cultural sites (the presidential balcony of Malcanan Place, trekking to Mount Pinatubo, an overall view at People's Park in the sky — Tagatay. Philippines also has activities for the thrill seekers at Aklan and the White Beaches of Boracay to relax and tan up".
See left for competition details.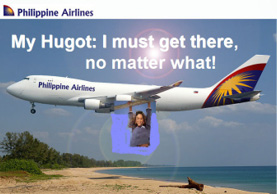 The post Quick! The clock is ticking! appeared first on Travel Daily.
Source: traveldaily