ONE lucky travel agent had plenty of reasons to smile yesterday in Sydney, scooping a massive $10,000 as part of Royal Caribbean Cruises' biggest ever trade giveaway.
Brunella Carchidi from Flight Centre Leichhardt in Sydney was handed the cheque after competing against nine other finalists who were in the running to win the top prize of $100,000.
The giveaway was part of Royal's celebrations marking 10 years of cruising in Australia, with the cruise line also heaping hundreds of other prizes on the trade including cruises aboard inaugural sailings on the Symphony of the Seas and Celebrity Edge as well as $5,000 in EFTPOS cards and 300 movie vouchers.
Speaking at the event, Kathryn Valk, director of sales & marketing at Royal Caribbean Cruises Australia & New Zealand, said "this is one of the many travel agent incentives to come, so watch this space as there are a few interesting things to happen in 2018."
Pictured from left is Kathryn Valk, Brunella Carchidi, Flight Centre Leichhardt and Nicole Stojic, district sales manager NSW Royal Caribbean Cruises.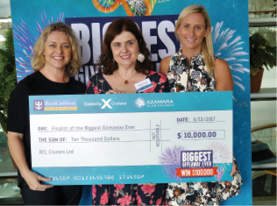 The post Royal's biggest ever winner appeared first on Travel Daily.
Source: traveldaily