SAMOA is celebrating the launch of its newest airline Samoa Airways (OL), now flying between Apia and Auckland and Apia and Sydney (TD 25 Aug).
Speaking to TD in Samoa this week, Samoa Airways marketing & communications specialist Dwayne Bentley said, "Australia is a market with great potential".
"We acknowledge that the travel trade plays a crucial role, and whilst the airline has established some really good partnerships early on, our objective is to grow these and look at how we can develop new business opportunities to Samoa", he added.
The new airline will also look to grow leisure traffic from Australia, with tourism being crucial to the Samoan economy.
To help deliver these outcomes Bentley said the team was working on improving the airline's distribution and internet booking engine, as well as monitoring on-time performance and the product and inflight offering.
And while it's still early days, Samoa Airways says it is keen to expand its non-stop Sydney-Apia service if required.
The flight is operated by a 170-seat Boeing 737-800, wet-leased from Icelandair, with eight seats in Business Class and 162 seats in the Economy cabin.
Replacing Polynesian Airlines, the govt-owned Samoa Airways operates from Auckland six times a week and from Sydney twice weekly on Thu and Sat.
Samoa Airways is represented in Australia by GSA Aviation Online.
Pictured above at the recent launch in Sydney is: Anthony Cassar & Liz Burrage, Aviation Online; Michelene Taua'a & Dwayne Bentley, Samoa Airways and Tony Wilson, Aviation Online.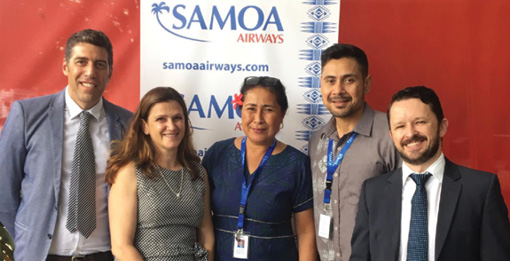 The post Samoa Airways takes off appeared first on Travel Daily.
Source: traveldaily