AUSTRALIANS stay longer and spend more than other travellers heading to San Diego, & that has city tourism officials very happy.
San Diego Tourism Authority snr director of international marketing Philip Hannes said Australia was a top six market for the city, with 80,000 arrivals from down under in the past year.
"Australians spend on average $2,000 during their stay, which is very valuable and they tend to stay four nights, which is longer than most international and domestic tourists."
Hannes said the tourist board hoped to grow the Australian market to 100,000 arrivals over the next few years.
The target is part of a trade delegation from San Diego visiting Sydney, Melbourne and Brisbane this week for a series of training breakfasts with agents, as well as meeting local partners.
Hannes said the delegation was made up of the San Diego Tourism Authority and tourist partners such as the USS Midway and SeaWorld.
"We're going to be working with travel professionals to show them the latest offerings and teach them how to promote and sell the region," he said.
Hannes added that a dream for San Diego was to get direct flights from Australia to the city, especially with terminal upgrades in works at San Diego Int'l airport.
"We're always trying to get international flights from our top visitor markets."
Pictured at a breakfast event are: Philip Hannes, San Diego Tourism Authority; Bevan Carson, Qantas Holidays; Chantelle Sobkowski, Qantas Holidays; Penny Brand, Gate 7; Alba Aradillos, Qantas Holidays; Scott McGaugh, USS Midway Museum; Kylie Wilson, Delta; Darren Evans, Qantas Holidays; Tricia Halsema, SeaWorld San Diego & Riki Suzuki, San Diego Tourism Authority.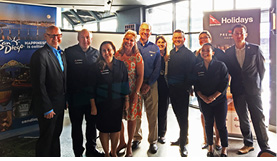 The post San Diego shining down under! appeared first on Travel Daily.
Source: traveldaily