THE Shangri-La Hotel, The Marina Cairns will this week kick off a $13 million upgrade which will cover all 184 guest rooms.
The transformation "reflects Shangri-La's commitment to continuously provide outstanding facilities to guests," with the company saying the renewal will secure the property's current market-leading position in Cairns.
During all phases of the makeover the hotel will continue to operate as usual, with the renovation staged to minimise disruption and the overall project scheduled for completion by the end of 2018.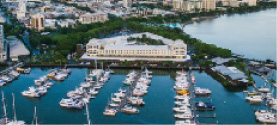 The post Shangri-La Cairns revamp appeared first on Travel Daily.
Source: traveldaily