IN MAY 2014 Lisa Pagotto sold her house to fund the set-up of her dream business Crooked Compass, a boutique tour operator focusing on adventure and experiential travel.
Twelve months on, following encouragement from her father, she filed an application to register her interest on Channel Ten's Shark Tank Australia.
"The process was terrifying and gruelling and has taken almost 20 months to get to tonight's show going to air", she told Travel Daily ahead of last night's episode.
Despite not having secured the $70,000 investment for 15% of her company with any of the Sharks, Lisa said that her business had more than doubled in size since the episode was filmed a year ago as a result of hard work and persistence.
She also had some support from a couple of Sharks who expressed ongoing interest in Crooked Compass following her pitch.
As of yesterday, Crooked Compass is the first international product partner to have its tours featured and available for booking on RedBalloon.
"Sometimes an entrepreneur comes into Shark Tank who skillfully weaves you into their 'spell' with their ability to tell a story, and for me Lisa did just that", said RedBalloon founding director & 'Shark' Naomi Simson.
"Her passion, curiosity and persistence were infectious… I could not help but put up my hand to offer assistance."
On the back of Simson's keynote presentation at the TravelManagers conference in Darwin last week, Pagotto and Simson have also partnered to launch an exclusive incentive to Personal TravelManagers where the lucky winner receives free enrolment into Simson's Build a Brand online course, plus a lunch with both Pagotto and herself.
"I want to work with agents and like-minded businesses who have a point of difference & who care about what their customer wants, not what to be told to sell for a higher commission," said Pagotto.
Fellow 'Shark', Steve Baxter has thrown his time and support behind Pagotto, providing a financial strategy for the longevity of Crooked Compass.
Baxter also helped to forge ties with other Shark Tank businesses Travelshoot and Scrubba wash bag, as well as introduced her to Anaconda procurement.
She said she was "thrilled at the outcome" that enabled her to retain full equity of the business.
"I'm grateful for the doors and opportunities that have opened, with more major announcements to be revealed soon.
"I was forced to learn so much more about my own business during this process and highly recommend it to other businesses considering the challenge…but, you do need to be thick-skinned," Pagotto added.
Crooked Compass' website and social media pages went into meltdown during last night's viewing due to the high volume of traffic to the sites.
Pagotto is pictured with husband Mick last night, who she says has been her biggest supporter.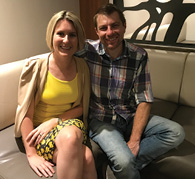 The post Sharks rise to Lisa's bait appeared first on Travel Daily.
Source: traveldaily