SKAL International Sydney recognised two TAFE NSW Ultimo graduates with awards this week as part of its TAFE Student Sponsorship Program.
The initiative was part of the club's fundraising initiative for 2017 and saw one accolade presented to a Tourism graduate and another to a Hospitality graduate.
Sue Francis, who championed the program, presented the Tourism student award to Edwin Ail while Skal International president Walter Nand awarded the hospitality accolade, which went to Michael Chen.
Both Ail and Chen received a Skal International Sydney Certificate of Achievement, $500.00 each to assist with their studies and an invitation to sit at the President's Table at the next Skal International Sydney event.
Pictured are: Skal International Sydney's Sue Francis and TAFE NSW student Michael Chen.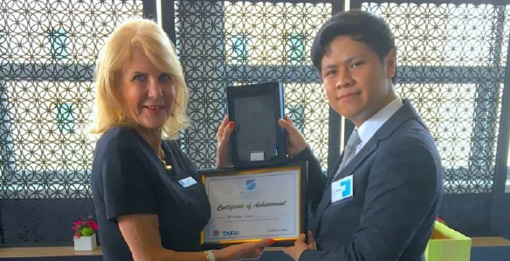 Source: traveldaily