HELLOWORLD Hunter Travel Group (HTG) has given Travel Daily a glimpse of its impressive new HQ in the heart of Newcastle – a combination of a head office and a superstore.
Located in the heart of the city's current urban revitalisation area, the HTG "City Campus" is billed as Australia's biggest regional bricks-and-mortar travel agency and takes up 1,500m2 over six levels.
The stunning office space features a retail area on the ground floor modelled on a luxury hotel lobby (pictured above and below), which has been designed to offer a different environment to the traditional agency with a bar, cozy lounges, privacy booths and spaces where customers can socialise and relax while they talk about travel plans with a team member in "a non-transactional environment".
Upper spaces include a business travel level, a groups/product/marketing level and an administration and sales level.
There's also a level dedicated to events and VIP clients, dubbed the Explorer Lounge (inset, with some of the HTG team) and modelled on a first class airport lounge or hotel club level.
Opening events are planned for Nov – CLICK HERE for more pics.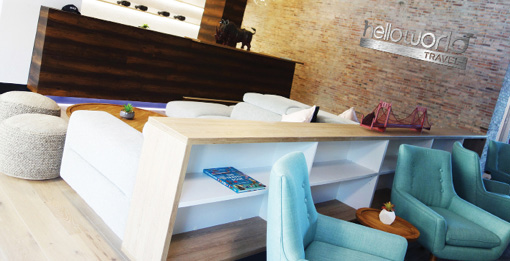 The post Sneak peek at HTG's new HQ appeared first on Travel Daily.
Source: traveldaily