SOFITEL Sydney Darling Harbour unveiled its 35th floor Club Millesime Lounge to the public on Fri – and predicted it would quickly become "the most popular club lounge in Sydney".
Hotel general manager Greg Brady highlighted the panoramic views from the $500m hotel, stretching the length of the city over Darling Harbour.
"We're a very popular venue on our first day," Brady said.
"We have 60% occupancy on our first day of opening and this month we're already holding about 55%, so we expect to finish our first month of operation over 70%," he said.
"And next month it looks like we'll do well over 80%."
Brady said strong demand from day one was an indication of prosperity in the local economy."Sydney is booming – we can tell, we just opened a 590-room hotel," he said.
The hotel's other highlights include a city-view horizon pool, a Champagne bar and a signature restaurant, Atelier by Sofitel.
Brady is pictured with the hotel's director of sales & marketing Marie-Cecile Heritage.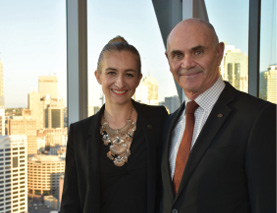 The post Sofitel's room with a view appeared first on Travel Daily.
Source: traveldaily