CELEBRITY Cruises treated a group of trade and media to a sample of Celebrity Solstice's culinary offerings during the ship's call in Sydney on Fri.
Celebrity has upped Solstice's culinary game for her sixth local season, in line with the growth in popularity of foodie travel experiences amongst Aussies.
From 09 Dec, a refreshed Aquaspa menu will be available with new fruit and vegetable centrifuged juices.
Last year Celebrity Solstice introduced Japanese restaurant Sushi on Five and "A Taste of Film", an outdoor cinema experience where dishes are served which match those created onscreen.
During the event on Fri guests went behind-the-scenes and into the galley of the main dining room to learn about how 162 chefs cater for 2,850 pax.
Solstice's executive chef, Karl Dufeil explained that across the ship, around 4,000 meals are served three times a day, "plus a little more" for those passengers who come back in between meals, he said.
Dufeil then treated guests to an interactive cooking demonstration, accompanied by TV presenter, Lyndey Milan, who has hosted three Celebrity Cruises' sailings in Europe.
Next stop was the Lawn Club for A Taste of Film, followed by dinner in Tuscan Grille and a sample of the ship's nightlife.
Pictured are: Adam Armstrong, md Australia and NZ Royal Caribbean Cruises; Gareth Evison, Cruise 1st; Joanne Agius, itravel; Lyndall Collins, itravel; Cameron Mannix, Celebrity Cruises; Kathy Fossati, Cruise Express; Anne Calder, Ozcruising and Craig Chisholm, Ozcruising.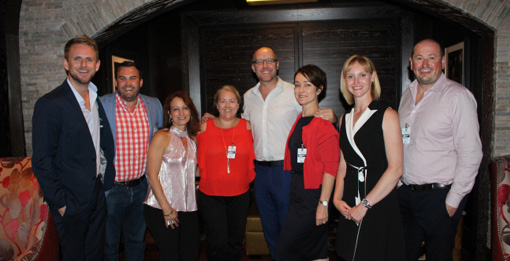 The post Solstice's culinary showcase appeared first on Travel Daily.
Source: traveldaily