SINGAPORE Airlines has repeated history this morning, landing the first A380 fitted with its new cabin product in Sydney, 10 years after flying its maiden A380 passenger service to Australia's largest city.
SQ public relations mgr South West Pacific Karl Schubert said the US$850 million (AU$1.1 billion) product was worth the enormous investment.
"This is worth it. I think it is fair to say this product will redefine luxury travel," he said.
The new cabin features six First Class Suite cabins in the 471-seater Airbus A380.
SYD ceo & md Kerrie Mather said the airport was delighted Singapore Airlines had chosen the city again to debut its new flagship Airbus A380 product.
Pictured is Singapore Airlines' new Suite product in a double bed, and inset is the Business class seat on the upper deck.
"We're always looking for innovative products that enhance the travel experience for our customers," Mather said.
To see more photos from today's event – CLICK HERE.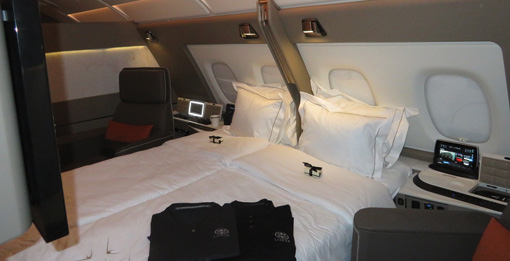 The post SQ debuts new A380 product appeared first on Travel Daily.
Source: traveldaily