SRILANKAN Airlines made a big splash in Melbourne (TD yesterday) when UL604 touched down mid-afternoon complete with dignitaries, dancers and some cricketing royalty.
The new route, the only non-stop flight between Australia and Colombo, is operating daily with ceo Captain Suren Ratwate telling TD the carrier had high aspirations for the flight.
"We're here, we're daily and we're going to make it work," he said, before cutting the ceremonial ribbon (above) with the help of Melbourne Airport chief of aviation Simon Gandy.
UL's Peter McKeon said forward bookings were already strong, with heavy demand from both Melbourne and interstate pax.
Wholesalers had embraced the new route he said, with a boom in travel to Sri Lanka as well as other UL destinations including the Maldives and India, where the oneworld member is currently the largest foreign carrier – more pics at facebook.com/traveldaily.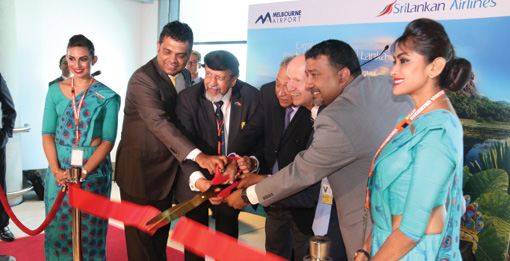 The post SriLankan determined to succeed appeared first on Travel Daily.
Source: traveldaily