TO RECOGNISE a long-standing partnership between Regional Express (Rex) and Parkes Shire Council, the airline has unveiled a special "Parkes" livery.
In addition, Rex has introduced a new $99 Rex Community Fare scheme between Parkes and SYD.
The initiative means that community fares in most situations will be available outside of 30 days prior to departure window.
A special Parkes livery comes in time for the five-day Parkes Elvis Festival, which kicked off on Wed and is sponsored by Rex.
The festival is expected to bring 25,000 visitors to the city and inject $13 million in expenditure into the local economy.
A special flight dubbed "Rex Hound Dog Express" provided pax with the ability to buy a package for the event with return flights, entertainment in the Sydney Rex Lounge, a festival pack and tickets to the Miss Priscilla Dinner.
Pictured: Warrick Lodge, Rex network strategy and sales; Ken Keith, Parkes Mayor and Anna Wyllie, Parkes economic and business development manager, with Jason Dale, Elvis entertainer.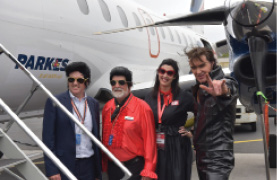 The post The Elvis Rexpress appeared first on Travel Daily.
Source: traveldaily