FOLLOWING a productive day of presentations and business sessions yesterday, delegates in attendance at the 2017 Global Tourism Summit were treated to a special evening event.
The Rooftop Garden of the Hawaii Convention Center was converted into an outdoor restaurant featuring food tents, bars, dinner tables, a VIP lounge and live entertainment.
A collection of 20 of the finest restaurants from across the Hawaiian Islands each had their top chefs prepare a signature dish for delegates to sample and showcase their style of cuisine.
Some of the dining precincts on show included Lava Lava Beach Club, Hali'imaile General Store, Ruth's Chris Steak House, Rum Fire and 12th Ave Grill.
The event provided an ideal opportunity to further network with local suppliers and Hawaii Tourism Authority (HTA) representatives.
Speaking to Travel Daily at the event, HTA president and ceo George D. Szigeti said the Oceania market was "extremely important to Hawaii" with almost 400,000 travellers visiting us last year.
"Your travellers are great and they love Hawaii — they love the outdoors, food, activities and the attractions that Hawaii has to offer, and most of all they respect their natural resources & are very conscientious," Szigeti added.
Pictured at the Rooftop Garden on a balmy night in Honolulu are: Claudia Van Uffelen, Ignite Travel; Judy Atha, Mastercard Travel Solutions; George D. Szigeti, Gillian Hayward and Nicholas Dew of Hawaiian Airlines.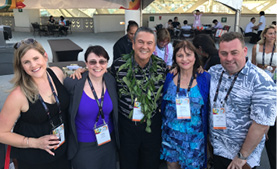 The post The tastes of Aloha on show appeared first on Travel Daily.
Source: traveldaily