THE Travel Industry Mentor Experience (TIME) held its latest gathering at the Sydney offices of The Travel Corporation yesterday.
Mentees and mentors of TIME's 28th program were welcomed, while graduates of the 25th program were celebrated with a speech by Travel Corporation ceo John Veitch.
Pictured are the 28th intake, (back row) Matthew Forster, Amex GBT; Hayden Foy, Snowscene; Tomas Malmberg, Insight Vacations; and (front row) Amanda Bruce, Virgin Australia; Olga Skerbinsek, Amex GBT; Tracy Erpf, Snowscene; Lisa McFadyen, Spencer Travel Southside; and Belinda Murphy, Helloworld.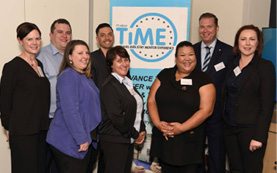 The post TIME welcomes new intake appeared first on Travel Daily.
Source: traveldaily