TRAVELMANAGERS' 2017 conference in Darwin went off with a bang, wrapping up the three-day event last week with a gala dinner at Sky City, complete with fireworks.
Set on the lawn between the casino and the beach, attendees danced under the stars at the event and celebrated this year's award winners.
The night began with a stunning performance by TravelManagers' own Merran Wiggins, who belted out the National Anthem to an upstanding audience.
Michael Gazal, executive general manager TravelManagers, hailed the night as "the ultimate event" for the 2017 conference.
"This is really, for me, such a big moment because I really truly believe that we are the best network, the most experienced network but more importantly, we actually really do care about each other," he said.
"When the chips are down, you guys are always there to step up and help each other, which is probably, for me, the thing of which I am most proud."
The night started with the dedication award, "recognising 10 years in partnership" and awarded to: Kim Mason, Samantha Cox, Julie Smith, Di Yates, Penny Meallin, Tracy Cosgriff, Lauren Compton, Michelle Michael-Pecora, Debra Bean, Jane Fowler and Lyn Tyson.
The big winner on the night was Simon Tinkler, who first bagged the award for Most Improved PTM Qld 2017, followed by Most Improved PTM National, Top Personal Travel Manager Qld 2017, Personal Travel Manager Top 10 2017 and Personal Travel Manager of the Year 2017.
Tinkler is pictured (centre) with ceo Joe Araullo and Queensland business partnership manager Karen Dowling.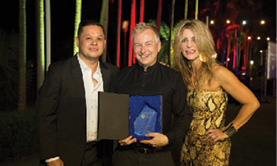 The post TM recognises top achievers appeared first on Travel Daily.
Source: traveldaily