THIS year's Vanuatu Tok Tok trade show is being held in a purpose-built air-conditioned marquee at the Iririki Island Resort, near Port Vila.
Now in its 15th year, moving the event indoors has been well timed, with Tok Tok experiencing on and off showers today, but delegates are remaining dry.
Vanuatu's Deputy Prime Minister and Minister for Tourism Joe Natuman (pictured centre) officially opened the show.
Vanuatu Tourism Office's gm Adela Issachar Aru is pictured (second from left) with other officials – more images on Facebook throughout the day.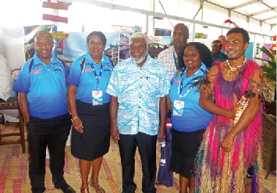 The post Tok Tok 2017 underway appeared first on Travel Daily.
Source: traveldaily