PRINT remains a key part of the marketing mix with leading travel companies reaffirming their commitment to catalogues, magazines and print ads at the 2017 Publish conference in Sydney yesterday.
The conference, staged by Mumbrella, saw panellists from APT and Flight Centre speak about how they were investing in print to win new business and keep customers loyal.
"The notion of the rise of digital has meant the demise of print, well I don't think so," said Fiona Corsie content marketing manager APT Travel Group.
"If it's really good quality, print has a place in people's lives particularly in the travel space because it's something people are most passionate about."
Flight Centre Travel Group content and publications manager Cassie Laffey said the company's catalogues and magazines had undergone a major strategic change in 2015.
"We didn't really have anything at the customer dreaming and inspirational stage, so we set up Travel Ideas, a highly engaging magazine which is designed for a shelf life of one to two years and helps the customer along the path to purchase," she said.
Both travel companies agreed print was important to brands and their credibility, with well-produced content the key.
Pictured are Fiona Corsie content marketing manager, APT Travel Group; Cassie Laffey content & publications manager, Flight Centre Travel Group; and Natalie Taylor national sales director, BlueStar Group.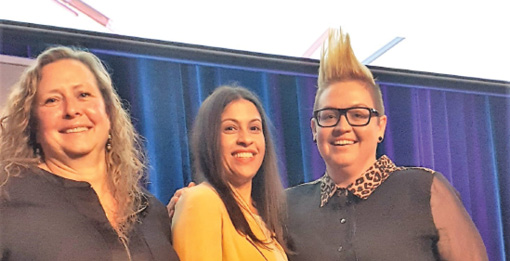 The post Travel brands invest in print appeared first on Travel Daily.
Source: traveldaily