OVER 400 TravelManagers arrived in Darwin yesterday for their 10th annual conference.
The largest to date, the event got off to an energetic start, with a flash mob of Personal Travel Managers (PTMs) taking over the Darwin Conference Centre, much to the surprise of some of the team at the National Partnership Office (NPO).
The conference theme of "one" will be explored throughout the coming days, with Michael Gazal, executive general manager challenging PTMs to find what the theme means to them.
"One can mean many different things…one personal travel manager's own business, belonging to one premium network that is TravelManagers, one love, travel, your family or flexibility to work where and when you want," he said.
"Or it could be one aim, to be the master of your destiny and create the perfect work-life balance," Gazal added.
This year, to demonstrate the NPO's goal of "being the best partner in travel", TravelManagers introduced TMA – twice-daily emails summarising every email suppliers send, in a move to make it easier to stay across all land, air and cruise deals and other important updates.
"This is one way we hope to be the best partner, by streamlining our communications and helping our suppliers get their cut-through to promote their unique offering," he said.
Yesterday attendees also heard from PTMs Sarena Taylor and Corinne Mutz, who provided insight into their businesses and personal experiences and the keynote speaker for the day, Victoria Cross Recipient, Benjamin Roberts-Smith.
After the business sessions concluded, delegates headed to the Mindil Beach Sunset Markets for a night of networking, tasting the multicultural food stalls and the option to pick up a souvenir.
Delegates are pictured on Mindil Beach.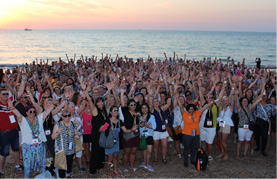 The post TravelManagers as "one" appeared first on Travel Daily.
Source: traveldaily