MADAME Tussauds has launched its first "augmented reality" experience in Sydney featuring reality TV star Matty J.
VIP guests were offered the first chance to pose and interact with The Bachelor man of the moment last night in a virtual simulation, showcasing cutting-edge immersive technology and exceptional realism.
Mark Connelly, general manager of Madame Tussauds Sydney, told TD the new attraction was just the beginning of a push into smart technology.
"As you can see from tonight, everyone is loving our new technology and really enjoying the experience so we definitely plan on enhancing more attractions down the track through leading edge technology," Connelly said.
"We don't do hard numbers but we are certainly expecting to see an increase in visitors to see this exhibit and we've had a fairly significant outdoor media campaign driving that and we will continue to roll that out in the coming months."
As for the man himself, Matty J was on hand to help launch his virtual projection, taking time out to pose for photos with guests.
Matty is pictured helping to kick off celebrations last night, with Connelly inset.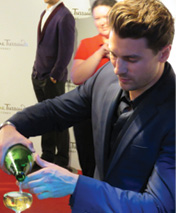 The post Tussauds reveals virtual Matty appeared first on Travel Daily.
Source: traveldaily