VIRGIN Australia's newly confirmed group executive, Rob Sharp, affirmed the carrier's strong support for the travel agent sector at a lunch hosted by the Association of Travel Management Companies (ATMC) in Sydney on Fri.
Sharp, who appeared alongside VA's gm of corporate and industry sales, Ann Elliott, said "events like this are a great way for airlines and agents to spend time together and find opportunities to enhance the overall guest experience…which ultimately generates a win for both airlines and agents.
"Agents are a critical cornerstone of our business," Sharp added.
Elliott (left) and Sharp (right) are pictured with the newly minted ATMC committee including Alan Wolf of Bay Travel; Ainslie Hunt, TMS Talent; Rob Dell, HRG; David Greenland, Concierge Business Travel; and Kim Wethmar, TravelEdge Corporate.
Also elected to the committee was Tass Messinis of BCD Travel.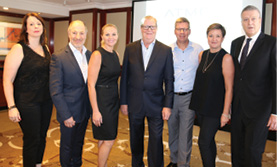 The post VA speaks at ATMC event appeared first on Travel Daily.
Source: traveldaily