UPDATED vaccine certificates required for international travel will be available to access from tomorrow morning, with the latest version featuring QR codes that can be scanned by foreign border officials to authenticate travellers' vaccination statuses.
The Federal Government's International COVID-19 proof of vaccination will be accessible for Australians and Australian visa holders who have a valid passport and have had their COVID vaccinations recorded on the Australian Immunisation Register.
Using advanced Visible Digital Seal technology, the international certificate meets the new global standard specified by the International Civil Aviation Organization and also conforms with relevant World Health Organization guidance.
The Federal Government described the latest update as a "key step" towards safely reopening international borders and supporting Australia's COVID-19 economic recovery, with Federal Employment Minister Stuart Robert stating the updated QR code component would provide peace of mind to Aussies embarking on overseas trips, acknowledging the feature may not always be mandatory depending on the destination a person is travelling to.
"You may not have to use it – there may be many countries you'll visit that have no requirement to demonstrate you've been vaccinated but the last thing the government wants for Australians when they travel overseas is to be stuck overseas because they can't prove they've been vaccinated," he said.
The certificates can be requested and downloaded through the MyGov website and can either be printed off or stored as a file on a smart device.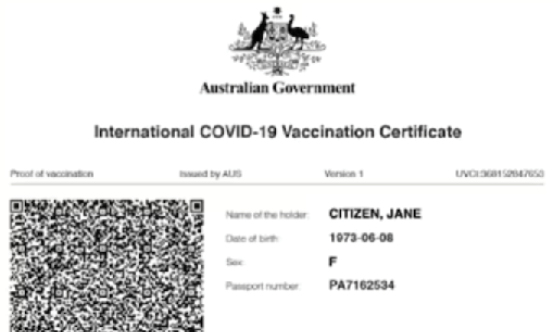 The post Vaccine certificate update appeared first on Travel Daily.
Source: traveldaily