SIX personal travel managers from TravelManagers recently hiked their way across Israel & Palestine on a seven-day famil hosted by Crooked Compass.
The group visited many ancient archeological sites along the way, stopping in on Nablus, the Jordan River Valley, Jericho, the Dead Sea and Bethlehem.
Each PTM walked away from the trip with unique stories to tell and varying highlights of the trip.
For Shannon Park, the high point in Palestine was the welcoming nature of its people.
"Strangers walking in the street called out, 'Welcome to Palestine', shopkeepers beckoned us to hear their stories…a family with young children even stopped harvesting their olives to chat with us," Park said.
The trip started and ended in Israel's Tel Aviv, with the journey incorporating long hikes on ancient trails, visiting with shepherds and their flocks and swimming in the Dead Sea.
Pictured: PTMs Di Yates, Cath Graham, Kerstin Rheinlander, Theresa Kwong, Bev Fitzsimons and Karen Doyle visiting the ancient Roman Theatre at Sebastia, one of village's six archaeological sites.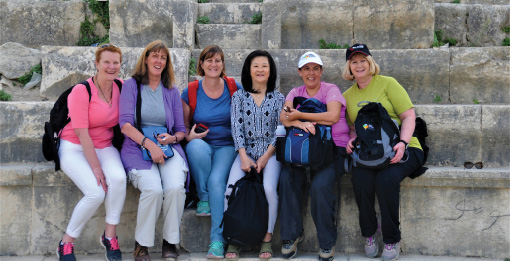 The post Walking through Palestine appeared first on Travel Daily.
Source: traveldaily