LAST week's Tok Tok 2017 trade show wrapped up in Vanuatu on Fri night with a gala function at host property, Iririki Island Resort & Spa.
The event provided delegates with a chance to dress up, with prizes awarded to the best male and female outfit that best befit the 'island theme' styling.
Taking out the men's division was White Grass Ocean Resort's rep Richard Skewes (pictured).
Skewes not only donned a tropical-print shirt, but wore two palm fronds purchased from the Vila markets earlier in the day, which were stuffed down the back of his top, the base of which lodged firmly between his butt cheeks.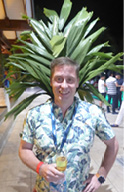 The post Window Seat 04 Sep 17 appeared first on Travel Daily.
Source: traveldaily