COOK Islands Tourism has treated 10 agents to a famil in the Cook Islands where the group was shown the best golden sand to tread and most turquoise waters to frolic in.
A highlight of the week-long familiarisation was exploring the beauty of Aitutaki.
The famil coincides with Cook Islands Tourism's limited time industry fare deal with Air New Zealand, with prices starting at $330 return (plus taxes) allowing industry personnel to travel with up to three companions.
The sale ends 06 Apr – more information available HERE.
The group of agents, pictured locking arms and posing for the cameras in Aitutaki are Jenine Lewis, The Cruise and Travel Authority Manly; Kim Pankiw, iTalk Travel Rutherford; Josh Burgess, FCBT Blues Point; Esther Lee, Escape Travel Chatswood; Tanya Montuori, FCBT Direct Sydney; Callum Henson, Escape Travel Erina; Mo Hosea, Cook Islands Tourism sales ambassador; Vicki Johnston, Travel Menai Metro; Skye Richards, Escape Travel Tuggerah; Madeline Pantazis, Mejestic Travel and Leslie Jennings, Helloworld Travel Emu Plains.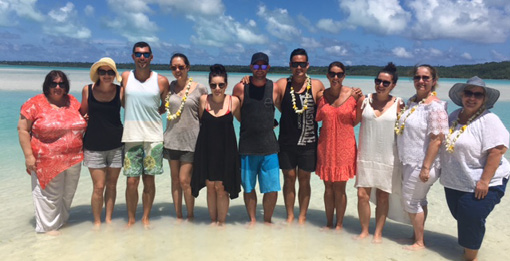 The post Agents explore Cook Islands appeared first on Travel Daily.
Source: traveldaily