AIR Vanuatu recently took 67 Flight Centre professionals to the "Land of Smiles" for its 'Western Wonder' region team leader conference.
Highlights from the trip included an afternoon of activities with Vanuatu's own Rio Olympic athletes, a progressive gala dinner and workshop sessions.
The national carrier also surprised delegates with t-shirts as a momento for the trip, which were presented to them once they boarded the plane.
Commercial mgr, Australia Paul Forbes said "as the retail group are a strategic partner of Air Vanuatu it was a fantastic opportunity to showcase what Vanuatu has to offer as a holiday destination and encourage Flight Centre agents to keep the destination top of mind when selling the South Pacific."
Some of the delegates are pictured donning their new tops aboard NF's Boeing 737.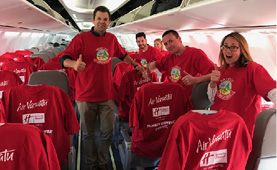 The post Air Vanuatu dressed up for FC appeared first on Travel Daily.
Source: traveldaily