TWO brave AOT Inbound staff said goodbye to their locks this week for The Leukaemia Foundation's World's Greatest Shave.
Anita Freitag and Ottilie Puijk, both members of the AOT Inbound FIT Reservations team, took part in the initiative to raise vital funding for research to help more people survive blood cancers and to also provide families facing the battle with practical support.
Freitag was the inspiration for the shave-off, having been personally affected by blood cancer when her son was diagnosed in 2015 at age five, and who is now in remission.
Pujik joined the pledge and also donated her long locks to help create wigs for cancer patients.
The great shave was supported by the HLO Normanby Road Social Club in South Melbourne, which organised a "Better than Bunnings" sausage sizzle to raise money for the cause.
The duo raised over $2,000.
Freitag and Puijk are pictured showing off their brand new hairdos & inset before the shave.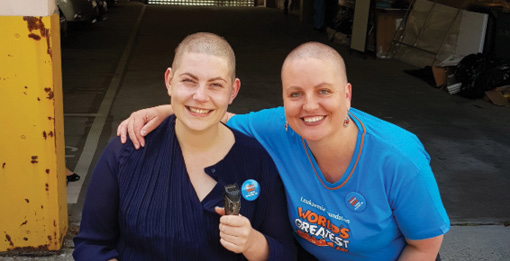 The post AOT Inbound's close shave appeared first on Travel Daily.
Source: traveldaily