INSIGHT Vacations' former chief exec officer John Boulding has been named as the global chief marketing officer of Italian-based audio guiding system for tour operators, Vox S.p.A.
After 20 years with Insight, Boulding departed the company mid last year, "to step back and give attention to a broader market than just the escorted tour sector," he told Travel Daily.
Vox Group's core proposition is the POPGuide app – a tour guide application that "puts our partner's business at the very heart of the guest's touring or travel experience," he explained.
"We do all the set-up work, branding it as their app & adding their choice of home/hotel locations & on-route venues, etc.
"It replaces outdated paper maps and expensive roaming alternatives & keeps our partners connected to their clients through online documentation, push notifications and special offers."
POPGuide partners also obtain trend and activity reports to help better plan future products.
"It is simple to set up and easy to use, and it is ideal for tour operators, travel agents & hotels."
The app is programmed in multiple languages and is already in use at more than 250 cities.
Boulding said the biggest single location the POPGuide app was in use was the Vatican, where there were some 2 million users a year utilising the system to explore St Peter's Basilica and the museums.
"But it is being adopted very rapidly and is already in use with tour operators, hotels, tourist boards, cruise companies and transfer specialists.
Australia is a key market for POPGuide, Boulding said, with a dedicated sales presence to be rolled out here "very soon".
Vox Group is already well known in the Australian travel industry, with existing partners for its radio-based, audio-guiding equipment used by the likes of APT, Bunnik Travel, Pacific International Travel Services, Australians Studying Aboard, a few of The Travel Corporation brands, and more.
Boulding (centre) is pictured with Vox's ceo Fabio Primerano (left) and president Elio Epifani.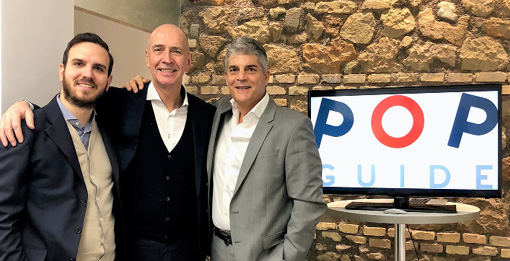 The post Boulding back into the thick appeared first on Travel Daily.
Source: traveldaily