BRISBANE Airport has launched its first television commercial featuring Qld rugby league legend Cameron Smith, singer songwriter Pete Murray and travel expert Catriona Rowntree.
It will be rolled out across Queensland and Northern NSW, with the goal of reminding locals that BNE is their best choice for overseas travel.
The ad follows 'Tambo Teddy', who gets left behind at the terminal kerb as his family arrive at BNE.
The BNE Champions work together to return the lost Teddy to its owner, Lucas, before he departs on his flight to Vancouver.
Pictured: Cameron Smith and Lucas with Tambo Teddy.
CLICK HERE to view the ad.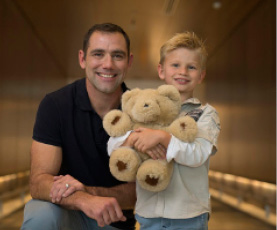 The post Brisbane Airport enlists stars appeared first on Travel Daily.
Source: traveldaily