SMALL group touring is the fastest growing product line for Collette, with the company rolling out its new Explorations brochure (TD 07 Feb) featuring a host of additional tours.
The program was detailed to Travel Daily yesterday, with Collette vp of international business, Christian Leibl-Cote arriving in Sydney from the US to provide an update.
Key features include a small group rail journey exploring Switzerland, a Northern Lights hunt in Finland, as well as new tours in Peru, Bolivia, Iceland, Italy, Southern France and Northern Spain.
Options under Collette's "It's Your Choice" program have been expanded meaning many itineraries now feature a range of different experiences for guests.
Collette has also today launched a new "Sell ten, get one free" incentive for travel agents under which they will receive one of the company's Spotlight Tours free for every ten guests booked on any Collette tour before 30 Jun.
Collette has guaranteed the departures on all its tours through until 30 Sep, Leibl-Cote confirmed.
He's pictured above with the new brochure and Collette general manager Alison Mead.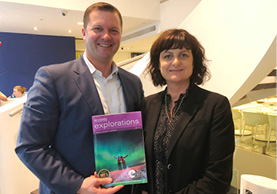 The post Collette Explorations out appeared first on Travel Daily.
Source: traveldaily