QANTAS has decked out its fourth Boeing 787-9 Dreamliner in a unique livery honouring Aboriginal and Torres Strait Islander Australians (TD 18 Jan).
Inspired by the work of the late indigenous artist Emily Kame Kngwarreye, the new design is intended to encourage more travellers to embrace a curiosity about Indigenous culture.
"We're thrilled to showcase another piece of Indigenous culture on one of our aircraft, and to reiterate our ongoing commitment to reconciliation with Aboriginal and Torres Strait Islander people," said Qantas chief executive Alan Joyce.
The latest livery marks only the second time in the carrier's history that the iconic flying kangaroo was changed to incorporate a new design, with its red tail colour tweaked slightly to match the earthy red tones and white dots.
The aircraft will fly to Sydney and Melbourne for crew familiarisation flights in the first instance before formally entering service on international routes from late Mar.
This is the fourth Dreamliner to be introduced to the Qantas fleet, following the arrivals of Great Southern Land, Waltzing Matilda and Quokka previously.
Check out the new livery in closer detail by CLICKING HERE.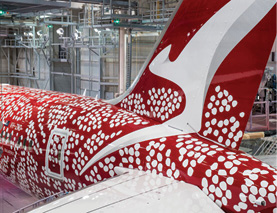 The post Dreamliner enters dreamtime appeared first on Travel Daily.
Source: traveldaily