EMIRATES hosted some of its key partners over the weekend for the blockbuster Australian Open tennis finals at Melbourne's Rod Laver Arena.
The event was the culmination of EK's "summer of tennis" which has seen it sponsor events around the country in the lead-up to the Grand Slam where Caroline Wozniacki and Roger Federer took out the championships in thrilling matches at Melbourne Park on Sat and Sun night.
Guests in EK's courtside seats included the airline's global president Sir Tim Clark, along with Jetstar Group chief executive officer Gareth Evans and senior travel industry executives.
Also in attendance was Aussie celebrity Dannii Minogue, who can be spotted in the top right hand corner above with the (only slightly) less attractive trio of Dean Cleaver and Barry Brown of Emirates with Phil Hoffmann of Phil Hoffmann Travel.
Inset is a shot of a thrilled Caroline Wozniacki being congratulated by her father just after she won the women's final.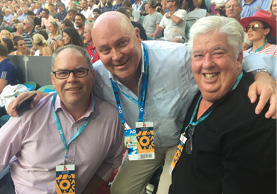 The post Emirates celebrates tennis appeared first on Travel Daily.
Source: traveldaily