ARTIFICIAL intelligence dominated discussion on the future of corporate travel at FCM Travel Solutions' recent Sydney education event.
More than 100 corporate travel buyers attended FCM's national flagship education event, FCM Illuminate, which showcased the future of corporate travel through innovation and technology.
FCM general manager Australia James Kavanagh said corporate customers wanted a similar experience and engagement to their leisure bookings, and that this would be powered by technology and innovation.
"They are demanding a new experience and we will see more use of smart data and machines continuing to understand humans, which will shape our interactions as voice search usage begins to accelerate," he said.
"Generation Y and Z travellers are continually shifting to more user-friendly and open programs.
"The industry is responding to that and introducing chatbot technology to interact with travellers in a more meaningful and anticipatory way."
The event also included a preview presentation on FCM's upcoming chatbot Sam (Smart Assistant for Mobile).
Pictured during an Illuminate panel session are James Kavanagh, FCM Travel Solutions; Rob Sharp, acting group executive Virgin Australia; Rachael Argaman, ceo TFE Hotels; Jason Toothman, vice president Sabre and Andrew Flannery, head of corporate, FCTG.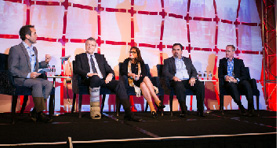 The post FCM ponders a smart future appeared first on Travel Daily.
Source: traveldaily