GERMANY is seeing a surge in visitation from the Australian market with record year-on-year growth and overnight stays projected to eclipse 1,000,000 over the next decade.
Speaking with media at an event in Sydney yesterday, Stefanie Eberhard, director German National Tourist Office (GNTO) Australia, said that "over the past eight years we've had record results from the Australian market with 3.5% growth this year and 650,000 overnights just in the first nine months."
The results would be even higher with Eberhard conceding that "the numbers don't include river cruising passengers yet," which would see thousands more travellers added to the current visitor tally.
Berlin continues to be the top city visited by Australians followed by Munich, Frankfurt and Hamburg, with 81% of travellers visiting for leisure, 10% for business and 9% VFR.
Eberhard said that a highlight of 2017 was the opening of Hamburg's A$1.2 billion Elbphilharmonie concert hall.
"It's one of the largest and most acoustically sound concert halls in the world", she said, with tickets readily available for tourists to purchase.
Eberhard said towards next year "our global theme for 2018 will focus on culinary Germany" and joked that "I imagine when you think about German food, you think of sausages, particularly in the south" but was keen to impress that Germany offered far greater food diversity spanning the entire country.
Pictured from left Richard McKisack, bdm Rail Plus; Stefanie Eberhard, director GNTO and Alison Mead, gm Collette.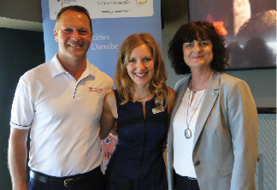 The post Germany luring more Aussies appeared first on Travel Daily.
Source: traveldaily