UNITED Airlines inaugurated its new Sydney-Houston non-stop service on the weekend, connecting Aussie travellers to the USA's fourth largest city for the first time.
At 13,833kms, it's also United's second-longest route, behind the Singapore-Los Angeles pairing.
Operating on a daily basis using Boeing 787-9 Dreamliner aircraft, UA's SYD-IAH route provides new flight options across the United States and into Latin America.
The carrier has timed the Houston service to offer optimal connections to 70+ cities in the US, Canada and Latin America.
The service also complements United's long-running west coast flights from Sydney to Los Angeles, Sydney to San Francisco and Melbourne to Los Angeles.
UA's senior vice president of worldwide sales Dave Hilfman referred to Australia as "one of the most important international markets for United".
Travel Texas' tourism director Brad Smyth said United's new service would result in continued growth from Aussies to the Lone Star state.
Pictured is United's 787-9 Dreamliner after touching down in Sydney on Sat.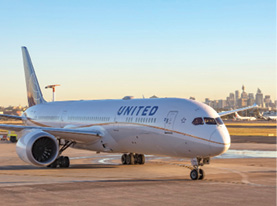 The post Houston service has lift off appeared first on Travel Daily.
Source: traveldaily