HAWAII Tourism Oceania (HTA) Oceania has revealed that it will focus on five key strategies in 2018 to help grow the region's visitor numbers to Hawaii.
"Australia is a very mature market for Hawaii so we have to continually reinvent ourselves as a destination", said HTA country manager Australia Kerri Anderson at the 2017 Global Tourism Summit yesterday.
An increase in consumer branding and PR will include a stronger integrated marketing focus, major campaign pushes, increased social and TV focus and targeted messaging.
"TV continues to be a key decision maker in raising awareness and inspiration to Hawaii and we plan on doing more of this next year," said Anderson.
HTA will continue to work on cooperative initiatives with both travel and non-travel partners, aiming to encourage multi-island travel, increase combined investment into integrated campaigns and drive shoulder season bookings.
"The travel agent is by no means dead in our market and we'll continue to invest time into our trade education strategy, which will also include a new Hawaii rewards program for agents," Anderson revealed.
Social and online will continue to play an important role in promoting Hawaii with plans to incorporate major digital campaigns and fan growth initiatives, as well as promote 'Hawaii advocates' through user generated content and social listening.
Next year will also see a focus on sports, edu-tourism, romance and luxury as part of HTA's festivals, events and niche markets strategy.
In the meetings, conventions and incentives space, HTA says it will look to customise 'only in Hawaii' experiences for the Oceania market, as well as increase partnerships, sales calls and events and target new businesses including corporates and professional associations.
"Part of our emphasis for the next year is to bring more of Hawaii into Australia, so our market can expect to see more activity around the 'Month of Lei' promotions and Hawaii pop-up stores," said Anderson.
Pictured at the Global Tourism Summit yesterday is HTA's Oceania Team: Charis Ricafuente, Darragh Walshe and Kerri Anderson.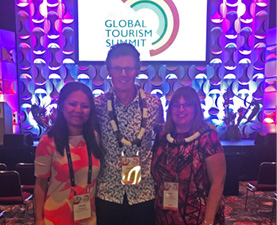 The post HTA's top 5 growth strategies appeared first on Travel Daily.
Source: traveldaily