JILL Peck from Wendy Wu Tours has put her graphic design skills to good use for this month's Travel Daily & Air Canada comp.
She sent through the above entry accompanied by the delightful poem "Air Canada!":
"Air Canada, let us fly there free!
O Canada, we want to visit thee.
O Canada, so desperately!!
So Air Canada please let us fly for freeeeee.
Our names our Jill and Lizzieeee"
Her eye for design and poetic expression has put her in the running to win Air Canada Economy class tickets to Vancouver for her and a friend.
Travel industry representatives who are up to the challenge can get involved by sending Travel Daily a fun photo featuring Air Canada and showing how much you love Canada before 31 Dec.
For more details, see right.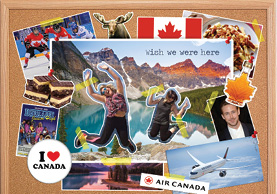 The post Industry vies for free tickets appeared first on Travel Daily.
Source: traveldaily