THE 2017 Magellan Travel Group conference reached a crescendo last Fri with a lavish gala dinner and awards event held at Perth's Crown Towers.
Guests were welcomed by an elder from the Wadjuk Noongar people, the traditional custodians of the land, before Gavin Tollman, global ceo of Trafalgar, addressed the audience with an impassioned story about commitment to service excellence.
Co-sponsor for the evening, Qantas, provided a host of prizes before the awards commenced with Etihad Airways generously providing seven Magellan award winners with business class tickets to Dublin in time for St. Patrick's Day next year.
Winners on the night were Ash Fabiani from Travel Experience.com.au and Chelsey Secker from Angas Travel, Christine Keighley from Complete Travel Services, Laura Noccioli from Travelrite International, Brooke McClune from World Corporate Travel and Fiona Caffrey from Travel Sense.
There was a fitting tribute to retiring Magellan co-founder Kevin Dale in front of the largest ever gathering of attendees with Sydney's Hyatt Regency announced as the venue for the 2018 conference coinciding with the groups 10th anniversary.
Pictured above from left: Andrew Macfarlane managing director Magellan, Andrew Jones chairman Magellan, Kevin Dale co-founder Magellan, Trevor Jones co-founder Magellan.
Inset from left: Rachel Harding director of sales Trafalgar, Andrew Macfarlane managing director Magellan and Matt Cameron-Smith md Australia, Trafalgar.
For more images from the event, see TD's FACEBOOK page.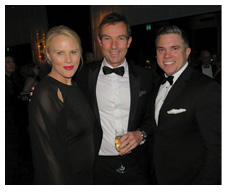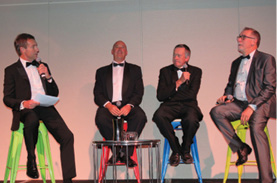 The post Magellan celebrates in style appeared first on Travel Daily.
Source: traveldaily