MAGELLAN Travel agents marked St Patrick's Day in style from the viewing stand at Eyre Square in Galway, Ireland, as part of an all-expenses paid trip the group won at the company's last annual conference in Sep.
Highlights of the Irish adventure have so far included visiting the Guinness Storehouse in Dublin, the Cliffs of Moher in County Clare and exploring the 15th-century Bunratty Castle.
The trip is in partnership with Etihad Airways & Tourism Ireland.
Magellan host Trevor Jones is pictured surrounded Magellan award winners embracing the luck of the Irish – Chelsey Secker, Angas Travel; Ash Fabiani, Travel Experience; Josephine O'Keeffe, Failte Ireland Guide; Fiona Caffrey, Travel Sense; Laura Noccioli, Travelrite International; Brooke McClune, World Corporate Travel; Christine Keighley, Complete Travel Services and all chaperoned by Frank (the bus driver).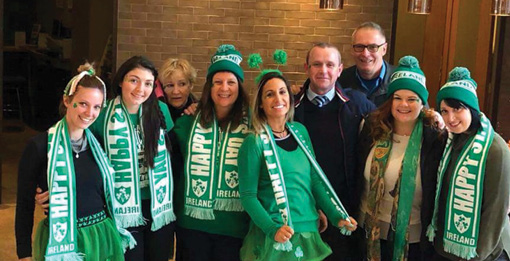 Source: traveldaily