CHINA Eastern Airlines and Qantas celebrated the Chinese New Year together in style by holding a special dinner event in Sydney on 01 Feb.
Major execs were in attendance including general manager of China Eastern Airlines Oceania, Kathy Zhang and Qantas head of agency partnerships & business events Rob Harrison, who welcomed more than 100 trade partners to the gala event.
The night saw the two airlines talk up the importance of their alliance, especially in light of the recent growing travel demand between the two countries.
Pictured: The Chinese New Year and MU/QF partnership is toasted by the attendees in Syd.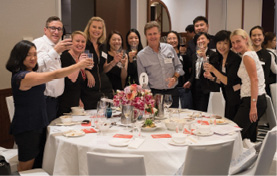 The post MU & QF celebrate new year appeared first on Travel Daily.
Source: traveldaily